WHAT MY BRIDE & GROOM'S HAVE TO SAY...
We were introduced to Raja through a friend and what a great match it turned out to be! From the moment we first spoke to Raja on the phone, it felt we had known him as a friend for a long time. The process of booking Raja was very simple and easy to follow. Immediately we felt at ease knowing we had some dedicated and kind taking our photos for our wedding. He was happy to show us his previous work and answered all our questions promptly. We never had any doubts to book Raja. On the day of the wedding, he was amazing too! He made us feel at ease and all the photos were taken naturally. The group photos which are usually the most stressful part of the wedding were done stress free! Following this we received some previews immediately and were super excited to share this with our family!! The photos are incredible and just what we hoped for. We went ahead and purchased our photo album for the wedding with Raja too and again- Simply stunning!! We would easily recommend Raja to be a part of anyone's wedding!!!
- Paras & Meera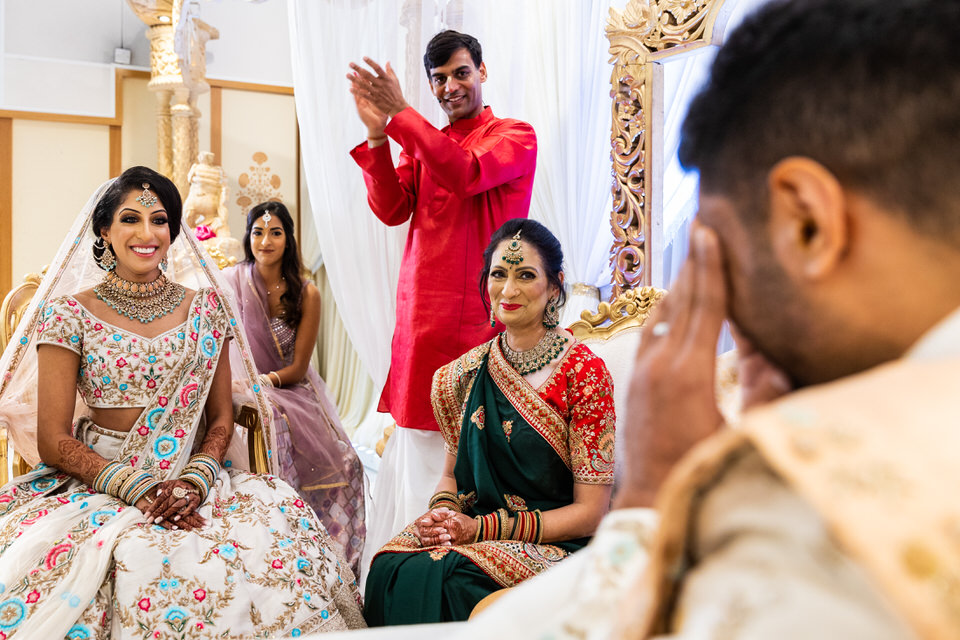 Raja has been the photographer for our wedding events this year and his work was fantastic! I knew I wanted to book him from our very first conversation. Raja is an experienced professional who was also able to work with our families and create a warm atmosphere during our events. We were very happy with the photos which were natural and 'in the element'. I would 100% recommend Raja. - Ushmi & Dharmesh
Raja was brilliant - super easy to work with in the run up to our wedding day, excellent photography and professionalism on the day and made us feel so comfortable! We had some teaser photos back within days and all our photos back within a month - incredible turnaround time! We couldn't be happier with our album too and would highly recommend Raja to anyone! - Hemalvi & Shahil
We booked Raja for our Indian and Civil wedding ceremonies earlier this year and wouldn't hesitate to recommend his services. As well as being professional, efficient and easy to work with he and his team put in so much effort throughout each event and it really showed in the final pictures we received. This includes travelling up the M6 to Cheshire to the civil wedding venue! Absolutely patient and a joy to be around. Thank you so much to Raja and the team for being amazing. - Krupa & Peter
Firstly, if you're looking to see a review as your deciding factor as to whether you'll confirm your booking, let me save you the time and just say book this guy now. Raja is the best there is.
We were actually introduced to Raja's page from another supplier and we instantly fell in love with his way of documenting events. My partner and I didn't want to have to pose in front of a camera all day or have our day interrupted by loads of forced photos as we're both camera shy and we knew in an instant Raja would give us what we needed.
The whole booking process was so easy and on the day Raja was as sharp as an arrow. He was there well on time, was already taking shots before we had arrived and captured me coming into the venue - which is one of my favourite shots as we didn't even know it was happening! He also introduced himself to the family really well and put everyone at ease and made sure he captured them throughout the day.
The pictures were sent to us in full literally 2 weeks after the event and were a great present for us on the return of our honeymoon as we reminisced about the whole day and were able to discuss the memories with our families.
Raja captured the day in the most beautiful way and we never felt interrupted throughout. He was conscious of how we were feeling on the day, worked with our video guys and allowed us to take a break to help us reciprocate before the reception.
Raja, we want to give you our deepest deepest thank you for all you've done for us and for giving us the best service we could have asked for. The way you document events is truly an art form and you're a master of your craft. I now know you're our photographer for life. We'll be coming back. Thank you for making the day so easy for us, keeping us to time and also respecting our wishes. Our families love the photos and they'll be on our walls forever. - Rickpal & Gigi